Vietnam
Background
While three fourth of the total area is mountains in Vietnam, cultures/customs and natural disasters are different in each region because of its long and narrow geographical characteristics, with a number of delta regions in the coastal plains and river mouths along the 3,400km coastline stretched from the north to south. Also, flood is the highest cause of death among all natural disasters, of which children accounts for 80% or more (Statistics by Ministry of Agriculture and Rural Development); thus, needs of Disaster Risk Reduction (DRR) education for children are high. Typhoons, floods, and landslides have devastated especially the central area since it is subject to tropical low pressure system and monsoon. In 2006, Typhoon Xangsane caused tremendous damage, particularly in the provinces of Quang Nam, Hue, and Danang city, left more than 100 deaths in Danang. These natural disasters are affected by climate change; thus, awareness of DRR knowledge for local government and people is demanded.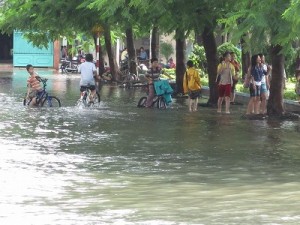 Activities in Vietnam
Assistance for enhancement of community DRR capacity, using school as DRR center in Central Vietnam
From March 2010 to March 2011, Training of Trainers (ToT) on DRR education was conducted to enhance their DRR knowledge in two elementary schools and two junior high schools in Hai Chau district, Danang city in central Vietnam. After the training, DRR lessons were carried out by the teachers participated in the ToT, such as learning basic mechanism of disasters, DRR drawing, and emergency bags preparation. On the other hand, DRR training for the communities around the target schools was focused on technical programs including making community DRR maps, sandbags, and practicing first aid. In addition, DRR education handbooks for teachers and DRR booklets for communities were developed based on those experiences, and were distributed for people engaging in the related field.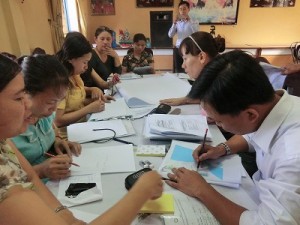 Improvement of School DRR education in central Vietnam
In order to extend the achievements of the previous project for elementary and junior high schools in entire Danang City, ToT and DRR classes by the teachers who have participated in the ToT have been conducted at seven DRR core schools (one in each district) in Danang City. From September 2011 to September 2013, innovative activities have been conducted, including DRR education curriculum making, ToT by teachers who have participated in the training for teachers in other schools, DRR education model and teaching aid contest, and DRR games development.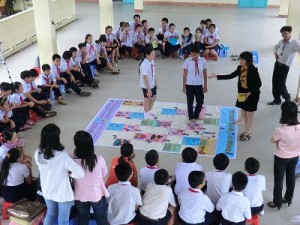 About Vietnam
Location: Indochina Peninsula in Southeastern Asia, bordering China, Laos, and Cambodia
Population: 87,000,000
Ethnic groups: Kinh approx. 85% and 53 minority ethnic groups (2011 census).
Area: 1,650km north to south, 600km east to west, with Red River Delta north of capital city Hanoi, and Mekong Delta in south where Ho Chi Minh city is.
Agriculture – products: Rice (one of the main products), coffee (world second biggest producer following Brazil)
Tags:
03/23/2013