Become a member
Your interest and actions keep SEEDS Asia going in Asia.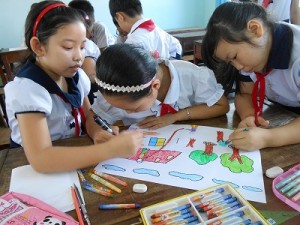 To become a member of SEEDS Asia:
1. Regular Member (Annual Fee: 10,000 yen)
As a Regular Member, you can join our activities and in the administration of SEEDS Asia. We have a General Meeting every year, where members can participate and contribute to SEEDS Asia's development. There are no special requirements or qualifications – Anyone can join!
2. Associate Member
We look forward to welcome you as an associate member if you support our programs/projects. No special requirements or qualifications to be an associate member.
1) Individual (Annual Fee: 3,000 yen)
2) Group/Company (Annual Fee: 30,000 yen)
AGREEMENT
All members need to agree to our activities based on the Articles of Association – Chapter 3.
---
1. Membership
Regular Member: Individual or party that agrees to the purpose of SEEDS Asia
Associate Member: Individual or party that agrees to support SEEDS Asia
Other Member: Membership type as decided by SEEDS Asia's Board of Directors.
2. Admission
If you would like to join us, please send in your Application Form to the SEEDS Asia Secretariat.
3. Term of Membership
After receiving your application, and confirming the bank transfer from you, you become a member of SEEDS Asia. The month of receipt of the member fees is your starting month, and you are our member for one year.
4. Membership Fee
Members have to pay members' fee as decided by the Secretariat outlined above.
5. Forfeiture of membership
A membership may be forfeited for various reasons:
– Submission of withdrawal letter
– Death of member, or SEEDS Asia closes down
– Non-payment continues for three years
– Expelled from SEEDS Asia
6. Withdrawal
Members can withdraw from SEEDS Asia by submitting a Withdrawal Form to the Secretariat.
7. Expulsion
SEEDS Asia's Board has the right of expulsion, but if this right is exercised, members have a chance to explain to the Board. Expulsions may be exercised as a result of –
– Violation of Articles of Association
– Hurt SEEDS Asia's honor, or violate its purposes
8. Non-refund of donation
If you have already paid membership fees or donation, it will not be returned to you.
If you agree to the above agreement, please download the Membership Application Form and send it to rep*seedsasia.org (please replace * with @)
Tags:
04/04/2013