Pakistan
■Training and Capacity Enhancement of Local Governments in the Earthquake Affected Areas of Pakistan (ADRRN Project)
On 8th October 2005, an earthquake measuring 7.6 on the Richter scale hit the northern provinces of Pakistan. Extensive damages were reported for houses, schools, hospitals, government buildings, commercial buildings, and other vital infrastructures. The earthquake killed at least 73,000 people, severely injured 70,000 and left 2.8 million people without shelter. The direct economic losses were estimated around USD 2.3 billion.
Past disaster reconstruction experiences point out the need of linking reconstruction to long-term preparedness. It is of utmost importance that the local governments, local academic institution, and local NGO make pro-active partnership for knowledge sharing and capacity enhancement, and link the post-disaster reconstruction process to long term recovery.
This project conceptualized and set-up 'Knowledge Resource Centers' (KRC) at the district and village levels, which serve as information hubs for better community reconstruction.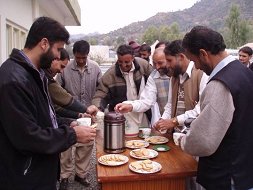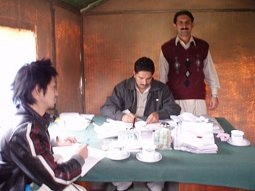 Project poster images
(Bagh activities only. Please contact the Secretariat if you need a high quality version of the posters):
Safer Construction for Community
Community Based Disaster Management
Disaster Education for School Teachers
Summary:
Reports:
■MKRC Project in Pakistan
Pakistan suffers from a wide range of both natural and human induced disasters. The topography of Pakistan varies from low-lying coastal areas and deserts to hills and mountains, which makes it prone to several natural hazards. Continuous heavy rains in July and August 2010 resulted in unprecedented flooding and the number affected now stands at more than 20,000,000.
In response to the situation, SEEDS Asia have implemented "Mobile Knowledge Resource Center (MKRC) Project" for a year, from May 2011 to April 2012, in affected areas of the large-scale flood, with support of Church World Service-Pakistan/Afghanistan.
First, baseline-survey was conducted in order to develop knowledge resource center corresponding to the local culture and customs. By customizing and painting a small truck, Pakistan-version "MKRC" was completed in November, 2011. Various teaching materials are inside the truck so that DRR workshop can be carried out in many marginalized areas: posters to explain the mechanisms of cyclone, earthquake, flood; models to explain safer village; and models of earthquake-proof structures.
From January to February 2012, MKRC training was conducted at 15 villages in District Thatta, Sindh. It was participated by more than 1,000 teachers, students, engineers, and community people.
Post-training survey showed that 84% of the students and 92% of the teachers increased their DRR knowledge. One student at the training said, "It was fun and practical training. I learned a lot about DRR. I will tell my family and relatives about what I learned today."
At the end of the project, the activities were recorded and published the handbook, hoping the DRR knowledge reaches more people.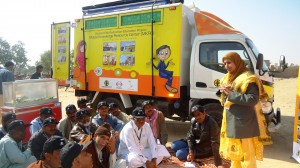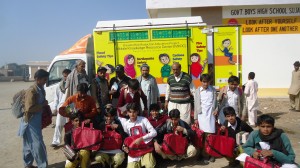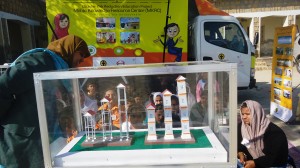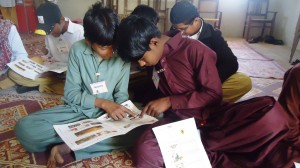 Tags:
03/23/2013